Venus Freeze Skin Tightening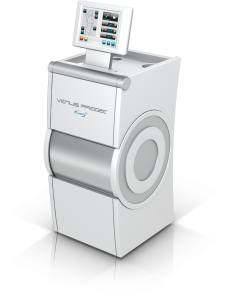 The Aging Process:
The underlying fibers of our skin structure are elastin and collagen. Over time, these fibers loosen and relax, creating loose skin and wrinkles. In addition, fluctuation in weight can place a stress on these fibers, loosening them even further.
The Venus Freeze:
The Venus Freeze is a device that utilizes Radio Technology (rf) to treat wrinkles and rhytides. Collagen and elastin fibers are targeted, creating an increase in the production of these protein fibers. In addition, fat cells are targeted and their diameter lessened. The Venus Freeze is FDA cleared for facial wrinkles, rhytides and skin tightening. This process can be used on almost any area of the body, with the most common areas being the face, neck, arms, abdomen, buttocks and thighs. It is cleared for all skin types and has been used in over 1 million treatments worldwide.
Treatment: Before beginning treatment, medical clearance must be obtained in our office by our physician to determine if you are a candidate. Contraindications include but are not limited to pregnancy, cancer, multiple sclerosis, epilepsy, infection and/or opening in the treatment area.
Treatment is safe, pleasant, pain-free experience with patients feeling soothing warmth of the treatment area. One may be red for 30 minutes to 1 hour post treatment but otherwise may continue on their day with no restrictions. Depending on the area being treated, 6-10 weekly treatments are necessary. A patient's skin will produce a slow but measurable change. Initially, the skin may appear healthier looking and smoother. After 3-4 weeks, patients notice the first difference; however, the changes continue approximately 3 months after the last treatment. After a patient completes this series, all that is needed to maintain is 1 treatment every 3 months (4 treatments per year).